Star Riverwalk Park
Posted by Jesse Taff on Friday, November 17, 2023 at 10:44:02 AM
By Jesse Taff / November 17, 2023
Comment
Discovering Star Riverwalk Park: Nature's Hidden Treasure in Star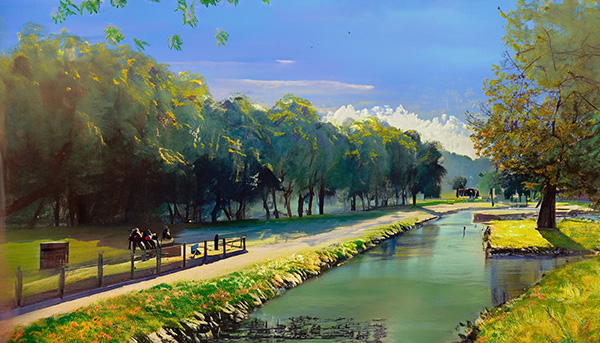 In Star, Idaho, you'll find a tranquil haven waiting to be discovered - Star Riverwalk Park. It's a place where nature's symphony plays, each trail whispers a hidden story, and families gather to create cherished memories. Moments from Downtown Star, explore the enchanting allure of Star Riverwalk Park and uncover why it's the perfect canvas for your next outdoor adventure.
Riverside Serenity
Step into the embrace of Star Riverwalk Park, where the gentle melodies of the Boise River create a soothing ambiance. This meandering river is the heart and soul of the park, enhancing its tranquil charm. Whether you seek a leisurely stroll along the riverbanks or a serene spot to unwind, the Riverside Park area provides the perfect backdrop for relaxation and reflection.
Scenic Trails to Wander
One of the park's standout features is its network of captivating walking trails that wind through its lush landscapes. These well-kept paths offer an immersive journey through the park's diverse ecosystems, from meadows to wetlands. Birdwatchers will find ample opportunities to spot local avian treasures, adding to the park's natural mystique.
Family-Friendly Adventures
Star Riverwalk Park welcomes families with open arms, offering an array of family-friendly amenities. The park features a delightful playground area where children can unleash their energy while parents savor a picnic in the nearby pavilion. Vast open spaces invite activities like catch or a laid-back family picnic, fostering connections with nature and loved ones.
Wildlife and Birdwatching
For wildlife enthusiasts and birdwatchers, Star Riverwalk Park is a sanctuary waiting to be explored. Its diverse ecosystems provide a haven for a variety of bird species, butterflies, and small mammals. Keep a watchful eye out for the great blue heron, kingfisher, and other feathered residents who call the park home. Birdwatching here is a captivating and educational experience for nature enthusiasts of all ages.
Photography Paradise
Photographers, prepare to be inspired! Star Riverwalk Park transforms with each passing season, offering a breathtaking display of colors and textures that awaken your artistic senses. Whether you're an amateur photographer or a seasoned pro, the park's natural beauty provides the perfect backdrop for your next photography adventure.
Local Attractions
Beyond the enchantment of Star Riverwalk Park, Downtown Star offers a wealth of attractions waiting to be explored. Nearby, you'll find the picturesque fairways of River Birch Golf Course, where golf enthusiasts can tee off amidst stunning natural surroundings. For those seeking a touch of luxury, The Club at SpurWing awaits, offering upscale amenities and a premier golfing experience. Nature lovers can venture to Eagle Island State Park, a vast outdoor haven brimming with hiking trails, picnicking spots, and opportunities for water-based recreation along the Boise River. And if you're a wine connoisseur or simply looking for a delightful experience, be sure to visit Dude DeWalt Cellars, where you can savor exquisite wines in a charming setting. These attractions, each with its own unique appeal, further enhance the allure of this charming area.
Conclusion
Star Riverwalk Park, where nature's secrets come to life, is an outdoor canvas waiting to be painted with your adventures in Downtown Star, Idaho. Whether you're in search of a tranquil escape, quality family time, or a picturesque location for your photography pursuits, this enchanting park is the ideal setting. So, when you find yourself in the Star area, don't miss the chance to explore the serenity and beauty of Star Riverwalk Park. It's a place where the magic of the outdoors unveils its secrets, leaving you with cherished memories of nature's wonders.